Bareboat Charter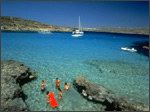 For those who prefer to steer their own, we can help you find the yacht of your preference. Just tell us your ideal boat dimensions and whether you wish to join a flotilla group or travel by yourself – we will then advise you on availability, price and ports.
In order to skipper a bareboat, you must have a skipper's licence and be able to show this on request. If you are not a licensed skipper, you can still hire a bare- boat, and we will organise a qualified skipper to accompany you. Joining a flotilla can be a lot of fun, and you have an expert to help out if you get into any difficulty. Another plus, you can leave and rejoin our flotillas as you like.
Bareboat departure ports are Bodrum, Marmaris, Orhaniye and Göcek and one-way trips, or trips from northern ports such as Kuþadasý and mid-way ports such as Karacasöðüt can be arranged depending on the availability of your preferred yacht.
Prior to your charter, we can assist in organising transfers, accommodation and provisioning.

Crewed Yacht Charter
There are literally hundreds of classic and modern motor yachts and sailing yachts based in the Mediterranean and many charter out of Turkey during the summer season. A luxurious, well-appointed charter yacht offers the discerning traveller a holiday that is guaranteed to satisfy in every respect.
On a crewed yacht, your every need is attended to by a professional crew and your days are filled with panoramas of coast and sea, fascinating ancient ruins and quaint fishing villages. You can swim and snorkel to your heart's content and taste the freshest and most appetising of dishes, pre- pared according to your preferences. click for price information.
The choice of yacht is only limited to your imagination, as is to some degree, the choice of itinerary. When you charter a yacht, you are free to make up your itinerary as you go along. Your skipper acts as a valuable advisory source and can guide you to some of the area's lesser-known treasures. If you prefer, you are welcome to use one of our 'tried and true' charter plans, or you can have us put together an original itinerary based on your expectations for the trip. At any rate, we are here to advise you as to what is reason- able in the amount of time you have.
If you are ready to book your charter, you will need to provide us with the following information:
The number of people in your group, their mix of ages (i.e. if you have children, what age are they?) and their likely cabin arrangements (i.e. number of single, double and triple cabins required). If you would like an extra large cabin, or require air- conditioning, please let us know;
Your preference for a single vessel, two vessels or an indefinite number of yachts (i.e. two or more yachts travelling together is called "tandem charter" and can be a lot of fun for big groups);
Your preferred start and finish dates and any alternative dates you might have and your preferred ports of embarkation and disembarkation (i.e. where you plan to join the yacht, and where you plan to leave the yacht);
Any special requests which you feel will make the cruise more enjoyable (i.e. special occasions such as birthdays, anniversaries, reunions, etc. and special interests such as windsurfing, water- skiing, jet-skiing, sailing or ruins exploration).
If you are planning to charter a Turkish vessel and you require a member of your crew to speak good English, you might be advised to hire the services of a local guide for the duration of your cruise. Apart from giving you a better insight as to the Turkish way of life, any shore excursions to archaeological sites are sure to be more rewarding with a guide along.
Additional requirements such as reservations for flights and hotels, airport and hotel transfers and car rental, and their corresponding dates.
A crewed yacht charter holiday gives you the opportunity to see the best of the Turkish coast and at the same time enjoy a lifestyle once reserved for the very wealthy alone.
Cabin Charters
Apart from private charters, we also offer cruises on a shared- yacht basis for individuals, couples and small groups. Our Cabin Charters have guaranteed departures from Marmaris, Antalya and Bodrum and generally run from Saturday to Saturday from late April through to October.
On the first day of the charter, you will be transferred from the airport or your hotel to the yacht. If it is from the airport, your transfer will take between half an hour and three and a half hours, depending on your airport of arrival. This cross-country trip will give you an opportunity to view the landscape and observe the locals going about their work. The following morning, the yacht departs from the harbour and begins a leisurely tour, returning to port late the following week. More information concerning departure dates and prices are given in our Tariff Sheets. click for price information.
Cabin charters are traditionally made by wooden Gulet and our fleet of these vessels accommodate between 8 and 12 persons, depending on the final group size. A yacht's name will not be avail- able until the day of departure, as numbers will only be known a day or two prior to the tour's commencement.
Diving enthusiasts can join one of five cabin charter diving tours during the season. Diving cabin charters start and finish in Bodrum, just a half hour drive from the Bodrum Airport.
You may like to opt for a one-way tour between Bodrum and Marmaris, during which time you will visit two Greek islands, either Rhodes or Kos and Symi. These tours alternate over a fortnight, the first week's cruise being Bodrum - Kos - Marmaris, and the second week's cruise being Marmaris – Rhodes – Bodrum.
Gulets cruise from place to place, raising the sails when the wind is favourable. If sailing is important to you, please make this known to us when you make your booking – this way, you have the opportunity to join a group of like-minded people aboard a sailing yacht.
Your captain will see to it that your cruise moves along at a good pace. He decides on departure times, excursion times and meal times according to the composition of the group, the day of the week and weather conditions. The captain is responsible for the safety of the vessel and its passengers and has the right to alter the itinerary when necessary.
Group composition makes for an interesting tour: do not be surprised if you share your yacht with a number of different nationalities. Meal times will provide you with a good opportunity to get to know one another and you will find that strangers who share a love of the sea and an interest in nature and history quickly turn into friends.
The crew aboard our Gulets and yachts often do not have a foreign language mastered, but they almost always know a few 'every- day' phrases and are able to understand almost all requests.
Mini Blue Voyage
For each scheduled departure trip, there is the option of a mini cruise, a half week tour made up of three nights on board. If you would like just a half-week cruise, you pay half the normal weekly price and go just one way.
First Class Cabin Charter
This is the cabin charter for those who are after something a little more special and a little more upmarket. Our First Class Cabin Charters offer guests an air-conditioned vessel (during July and August) of superior quality. On board service is of a high standard and the yacht is equipped for both relaxation and leisure activities.
This tour starts and finishes in Marmaris, taking in the pine- forested beauty of the Gulf of Fethiye. Guests are treated to an afternoon's excursion to the ruins of ancient Caunos and the river-side town of Dalyan. Local drinks are served complimentary with lunch and dinner.
Sailing Cabin Charters
Enjoy the Turkish coast's cruising ground to the full by joining a group of other sailing enthusiasts for a week of plotting courses and setting sails. Our Turkish sailing vessels range from 36 to 59 feet in length and are offered on an active participant' basis under the guidance of an experienced skipper.
With departures from Göcek and Marmaris, this is your opportunity to sail some of the best coastline in the world with plenty of time set aside for leisure pursuits such as snorkelling, skin diving and windsurfing.
You do not necessarily have to hold a skipper's licence, but we do ask that you come along to experience sailing, and as much of it as possible!
Our yachts have a fully-equipped galley, a salon and plenty of deck space. Accommodation is in double cabins, (triple-share is sometimes possible) Each cabin has its own private WC and shower.