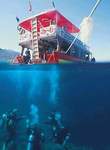 Diving Tours
The diving areas around Bodrum and Marmaris offer some of the best preserved dive sites in the Mediterranean. The water is for the most part very clear and in places it is possible to see objects lying on the seabed more than ten meters below.
The colour and variety of under- water flora and fauna is tremendous, the diversity of sponges alone is a subject for study, while the antics of small fish can be captured on underwater camera. Of course, as with diving in any area that has a long history of sea trade, there are underwater antiquities scattered all over the sea- bed: amphorae and other ancient relics are awaiting discovery!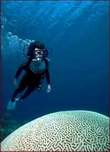 Scuba-diving in Turkish waters is permitted only under the guidance and supervision of a licensed dive guide. In keeping with these and other government regulations, our diving tours are lead by experienced dive masters, all of whom hold licenses endorsed by Turkish and international authorities.
Thereare two main dive bases from which our tours are opera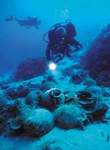 ted, Bodrum in the north and Sarıgerme in the south. Both bases offer everything one would expect from an international dive centre. All equipment is in excel- lent condition and 10 or 12 litre Scuba tanks and DIN / INT connection parts are in good supply. CMAS, PADI and Barracuda diving courses are available for beginners, while experienced divers have the opportunity to enjoy a week's diving with every day offering something new. Specialties include cave diving, wall diving and reef diving.
Blue Voyage Diving Tours
In order to participate as a diver, guests must have a recognised diving license and a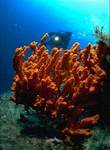 current medical report. It is possible to both hire equipment from our base or bring your own. The cost of hiring a dive boat varies according to the time of year and the size of the boat size.
Dive participators pay an additional amount for a 'limit-free' dive package to include tanks, weight belts and the services of a dive guide. The idea of 'limit-free diving' is to allow for at least two dives per day and two night-time dives per week. Where time and conditions allow, more than two dives may be made in one day. One important note however: diving is not possible on embarkation/disembarkation days.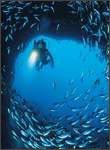 Cabin Charter Diving Tours (a round trip from Bodrum)
Each year we offer five week-long diving tours with set departure dates between late June and the end of September. This cabin charter is designed to appeal to individuals and couples who wish to include diving in their Turkish coast cruising itinerary.
The week proceeds much as a normal cabin charter cruise would, with a balanced variety of activities for both divers and non- divers. Those who are not diving have the opportunity to explore the sho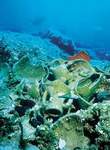 res, snorkel, swim, fish and soak up the sun.
The vessels from which we conduct our diving tours are equipped for maximum safety and offer fully crewed service for groups of up to twelve, provided that of the twelve at least five are active divers. Accommodation is in double cabins with ensuite showers and WCs. Individuals can opt to share their cabin if they wish, and will thereby avoid the single supplement.
Active divers need to add the cost of the diving supplement to cover a dive guide, fil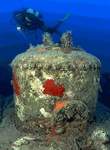 led scuba tanks, regulators and weight belts. All other equipment can be brought along by yourself or hired at an additional cost.
Private Group Diving Tours
This is a special kind of adventure for a family or a group of friends: a cruising holiday aboard a traditional Turkish vessel, and the opportunity to dive as often as you like! A yacht is chosen based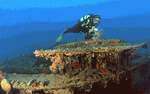 on the size and requirements of your group and then the cruising itinerary is set up with the help of your dive guide. Where there are diving opportunities, the divers in the group can do as much as they like, and the remainder of the group are free to swim, windsurf, snorkel or explore the shores.
Some groups may wish to hire a crewed dive boat and the services of a dive guide for a week of diving instruction. The cost of hiring all the equipment, a compressor and a dive guide is very reasonable, especially if the group numbers ten or more.