Inrecent years there has been a rapidly increasing interest in carpets. Many books, catalogues, introductory texts and more specialised works have appeared, and yet despite all the research put into these publications, the subject of carpets still bewilders and confuses some people. Despite this carpets are still highly sought after, with their rich warm tones, and extraordinary patterns and motifs. Each hand made carpet is a totally individual work of art representing a level of craftsmanship seldom surpassed.
In this brief introduction we hope to give you a greater insight into the history, traditions and wonderful uniqueness of artistry, that ensures the continued demand for high quality hand made carpets throught out the world.

HISTORY
The oldest completed knotted carpet, dated to 5th century BC, was found in the frozen tomb of a nomadic chieftan at Pazyrk in the Altai Mountains. It is believed that the art and craft of the knotted pile carpet began, then developed and flourished to a high technical and artistic level amidst the pastoral noma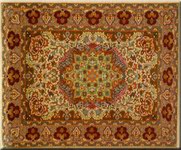 ds in the steppes of central Asia. The knotted carpet then reached the middle east in the 8th or 9th centuries with the nomadic Turkish tribes who began migrating into the region at that time. Very little is then known about the history of the carpet until the 12th, 13th and 14th centuries when examples from the Turkish Selcuk Period were found in various Turkish mosques. these Selcuk examples are today on display in the Turkish and Islamic Arts museum.

Often depicted in european paintings in the 16th century, carpets were used by the artist to indicate the high economic and social status of the subject. Modern Carpet History really began in the 19th century, when large cottage industry and workshop productions flourished to meet the ever increasing demand for handmade carpets on the international markets.

THE CRAFT OF CARPETS
For as long as anyone can remember, women in various parts of Asia have been learning the skills of carpet weaving from an extremely young age. Many of the carpets woven were designed directly from m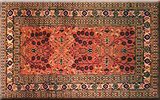 emory using traditional materials, colors and motifs, characteristic of the region. Every carpet was unique and used a symphony of ancestral and sometimes sacred patterns that reflected the fabric of local life and the identity of weaver.

Carpets are always handmade, usually of wool or sometimes cotton and only occasionally with the more expensive additon of silk. Highly skilled weavers were usually also proficient in sorting, combing, spinning and plying the lustrous wools.

The use of tradional natural dyes was a hereditary skill and many women would pool their resources and expertise to ensure a lasting and radiant range of dye colors. Although synthetic dyes are used more prolifically in modern times, the tonal
variances and hues of natural dyes give so many carpets their high intrinsic value.



The handweaving of double or single knotted carpets that often comprised a young woman's dowry, took months or even years of skill. Carpets were not only used traditionally as floor coverings but used on ceremonial occasions, as tent screens, wall hangings, cradle and sofa covers and also as prayer rugs. The young women's dreams and inspirations were often intermixed with a wealth of ancestral designs and symbols to create carpets that would represent a desire for fertility, protection, prosperity, etc. The age old tradition of carpet making survives today despite dramatically changing lifestyles local customs have beenmodif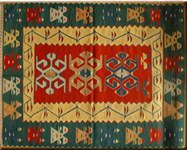 ied to include the use of sophisticated patterns and modern technology but the skill of the experienced artists and their individual interpretation of motifs and colors ensures the highest quality is still maintained in the carpets of today.

A high quality, carefully selected handmade carpet is not only a decorative item but increases in value and beauty as it is used; its integrity and traditions passed from generation to generation.

Our carpets at Indigo Gallery are meticulously chosen to reflect the finest creative skill and technical quality of some of Asia's greatest unknown women artists.