General Information
How the "Blue Voyage" started ?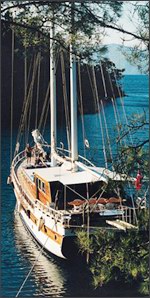 This most popular of sea adventures began quite by mistake when a few years after the foundation of the Turkish Republic, a political writer, Cevat Sakir Kabaagacli, was exiled to Bodrum for publishing a story about army fugitives.
The judges who sentenced Cevat Sakir to a number of years in the remote port knew nothing of its lifestyle, which as Cevat Sakir found out, was something like paradise. He settled down and adopted the name, the "Fisherman of Halicarnassus", writing stories about the town and its locals- in particular, the fishermen.

On his regular outings with fisher- men, he gradually got to know the various coves and bays in the Gulf of Gokova. When visiting intellectuals from Istanbul dropped in, he took the opportunity to introduce them to the fisherman's way of life. Together they constructed a theory of culture which embraced the cultures of all the people who lived in Asia Minor. Sakir's tours of the Gulf of Gokova became famous and were given the name, "Mavi Yolculuk" or "Blue Cruise", and at this point, we wish to pay our gratitude to the man who inspired this voyage of exploration - the source of enjoyment for many thousands of people for almost 60 years.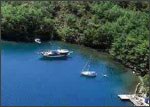 The "Blue Voyage" Today
The Blue Voyage offers the best possible escape on the water: a means of forgetting the rigors of everyday life for a while and just letting go of time. On a week or two week cruise, travellers sail along the Southwest Turkish coast, through crystal clear waters frequented by schools of dolphins and into quiet bays, the harbors of small, picturesque villages and many a historic port.
Wherever you may come from, and however old you may be, after a week or two afloat in this scenic wonderland, you will become of one heart with the beauty and serenity of nature. Both body and mind will revel in this healthy, happy environment.
What alternatives exist?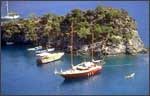 For the type of Blue Voyage we offer, you don't have to holda skipper's license, nor do you need to be an avid sailor. We provide you with a traditional wooden yacht which you charter with crew. If you cannot get a group together so as to take your own yacht, you still have the opportunity to join one of our weekly cabin charter cruises. You might even like to go for something racier, like a standard-sized bareboat with an English-speaking skipper.
Most of our yachts are of the traditional wooden variety, built either in Bodrum, Marmaris or the western Black Sea region. You will find a number of them pictured on the following pages and additional information is available in our Tariff Sheets.
Which season is best?
Between the end of July and the beginning of September, Turkey is extra busy with the height of summer bringing thousands to the coastal regions. July and August days are long and hot and the nights are warm. June, the beginning of July and all of September offer a better combination, with warm days and cool evenings. The water in September can be especially warm in places. The months of May and October offer excellent sailing conditions and the opportunity to go trekking or fishing.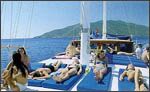 How do we spend the time?
During the day, we cruise for a few hours and sail if the wind allows. Closer to lunch or dinner, we approach the land and drop anchor in a solitary bay, alongside a small village or off an island. At every stop, and there will be at least two per day, there is the opportunity to swim, fish, snorkel, windsurf, sunbathe, take a trip ashore or just read under the shade of the sun awning. The accent is on relaxation and recreation.
Your friendly, attentive crew will consist of a captain, a cook and either one or two seamen. Their job is to ensure that you are comfortable, well fed and entertained.
What about Scuba diving?
We offer diving tours for people who wish to explore the depths off the coast in the company of an experienced dive master. Bring your friends and make a group or join an organized tour.
Children?
Provided they are accompanied by adults, children of any age are welcome to come along and will positively thrive in the warm waters of the Turkish Aegean and Mediterranean.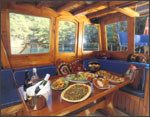 What shall we bring?
Our guests are advised that they will be spending most of their time in a bathing suit so it is a good idea to bring at least two! For land trips, a pair of long, light trousers and a shirt are advisable. Evenings may be cool, certainly during the earlier and later months of the year, so you are best to bring a pullover and a windbreaker.
We also suggest you pack your beach towel, plenty of suncream, snorkels/flippers/goggles if you plan on doing lots of snorkeling and a sleeping bag if you are planning to sleep on deck.
Bed linen and towels for use in the cabins are provided by us and you should expect a set of sheets during the hot summer months and a bottom sheet and a pique (thick cotton sheet) during the spring and autumn months.
Your Turkish crew may not have a thorough knowledge of English, so you might be advised to take a small traveller's dictionary along with you for the cruise. Besides being understood more easily, it is also a great way of picking up a few words of Turkish.
We suggest you bring your belongings in a collapsible bag, rather than a suitcase, as bags are much easier to stow away, and also serve to limit how much you pack! You may like to bring a light day pack for excursions ashore.
One final word of advice: normal street shoes are definitely not acceptable on board a yacht... we suggest you to bring soft-soled shoes for getting around on deck.

General Yacht Information
The yachts we represent fall under one of four categories:
Sailing yachts of various design and length, offering excellent sailing performance;
Classic Gulets and Tirhandils ranging in size from 49 to 108 feet, many of which will sail in a good breeze;
Motor yachts of every description with a range of prices to suit all preferences;
Bareboats of various make and model available for hire from one week to two months on either private or flotilla basis.


What is a Gulet?
The classic Gulet, best known for its rounded aft, low-to-the-water profile and roomy hull, was once used by fisherman and sponge divers to transport their catch. These days, Gulets are associated primarily with charter and various designs have emerged, all of which come under the collective description of wooden Gulet. The original Gulet has the rounded aft, but as this design limits the number of cabins which can be built in, the "Ayna Kýc" (flat-backed) style of Gulet is becoming increasingly popular as a charter vessel.
What is a Tirhandil?
The double-ended traditional Tirhandil is the oldest style of vessel on the Aegean Sea. Tirhandils are rarer these days due to their accommodation capacity – the design allows for only a small number of cabins. Tirhandils sail well and are an attractive vessel with plenty of deck space.
Gulet cabins are popular as they are all about the same

size, and each one has either a double berth, or a double berth lower and a single upper (bunk-berths). Every cabin has a wardrobe for hanging clothes and a number of drawers. There is also room for stowing bags and bulky items.
Most cabins have their own ensuite bathroom with a pull-out shower hose attached at the basin.
The living areas on a Gulet consist of an indoors saloon (some have an encloseable aft area instead), an aft deck for dining and lounging in the shade of a sun awning and a forward deck with numerous sunbeds which can be shaded by a canopy when the yacht is not sailing.
The ladder for getting into and out of the water can be of the type shown in the picture below, or on smaller yachts, can be a straight ladder which descends under the surface of the water. There are also numerous yachts with aft swimming platforms.
All yachts have a tender with either oars or an outboard engine. Those yachts that offer optional water-skiing have a powerful out- board engine, while the outboards of others are designed purely for getting to shore and back.
All yachts are equipped for safety, have a VH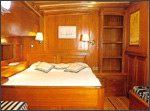 F radio, a stereo cassette player and a selection of cassettes. Many of the newer vessels have a cellular telephone, a TV, a video player and a CD player.
A yacht's galley is always well equipped and the cook takes pride in creating tempting dishes of Turkish and international origin. You will be expected to fill in a "preference sheet" to list what types of food you like to eat, whether you have any allergies and if you have any special dietary requirements. The cook will then try to fulfil your requirements as far as possible – although in Turkey, some ingredients are just not available.
Just as you will let your cook know what appeals to you in the way of food, you are wise to let your captain know what interests you ashore. His expert advice will enable you to come up with a satisfying itinerary with all the right ingredients.
The electricity of most yachts runs at 12 V / 24 V. Please consider this if you wish to bring battery-operated or electric shavers, videos, portable PC's, etc. You are welcome to bring your hairdryer too, but the best way to dry hair in these parts is the natural way – under the sun!
If snorkeling is one of your favorite pastimes, we suggest you pack your own set of gear, then you won't need to adjust the mask size every time you wish to explore the depths.